Welcome to Seva Networks Pvt.Ltd.
Seva Networks Private Limited provides high speed broadband internet services across the city of Aurangabad. Since its launch in 2004, Seva Networks, through its path-breaking speeds and competitively prices plans, is today the largest and most contending ISP in Aurangabad.
Starting off small in 2004, Seva Networks forayed into providing super fast internet services to the Aurangabad clientele. Seva Networks has become synonymous with high speed internet at value prices. Having offered the most affordable value for money plans to their customers in Aurangabad over the years, Seva Networks witnessed a 100% growth in its subscriber base in 2010, and a phenomenal 120% growth in 2011.
Read More...
Payment Options
Pay your Seva broadband bills at your convenience anywhere, anytime through easy payment options. You can:
Drop off cheques at your Seva broadband Relationship center.
Pay in Cash at your Seva broadband center.
Transfer online payment through debit- card by using ECS
Pay your Seva Broadband bill instantly from Seva Broadband website anytime anywhere.
Pay now..
Happy Customers
I can't believe the freedom I now have, now no matter where I am, I'm always connected to the Internet at Wi-Fi speeds.
Our business which depends entirely on being connected, I can truly value Seva Network services. The sky is the limit!
Ever since I've signed up, I've had no problems, and I enjoy being connected to the Internet 24/7 at speeds as fast as this!
WiFi Hotspot: Get More From Your Internet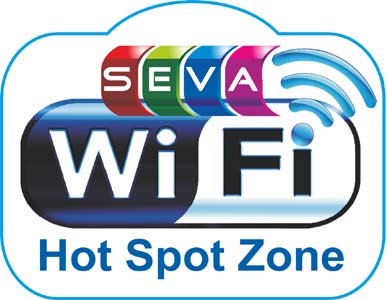 Connect to the Internet with Wi-Fi hotspots in airports, hotels and more with your laptops, mobiles and tablets.
Our Wi-Fi connectivity solutions make the Internet more accessible than ever. As a Seva Network user, you will also have access to all participating hotspots all over the city; this means you can access the Internet at all participating hotels, airports, metro stations, restaurants, cafés and more! All you have to do is sign in with your Seva credentials on your laptops, mobiles or tablets and your device will automatically connect to the Internet.